Here's what we've got to share with you regarding November/December platform news…
Create a Form on behalf of another User & send a notification to this User.
This feature allows Staff Users to create a Form on behalf of another User. The new update also allows a notification to be sent to this User at any step of the workflow. 
For example: 
1. Steven creates a Form on behalf of Kai.
2. Steven selects,
this Form is not for me
, and inserts Kai into the box. 3. Steven proceeds to send out the form. 4. Kai becomes the Form Creator and will receive a notification but the workflow will need to be set up accordingly in the template.
Find out more about creating a Form on behalf of another User here.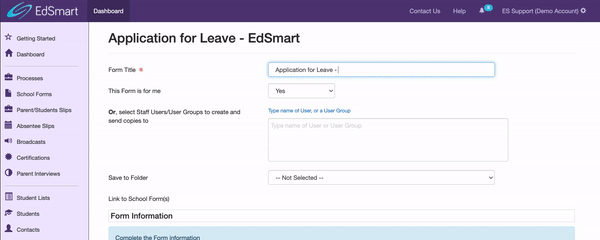 Improve usability of long Forms
In many cases, long Forms are essential and unavoidable. Consequently, we've increased the number of 'read-only' fields to 25 to help with the building of certain forms, such as those for risk assessment, that need to be lengthier than others.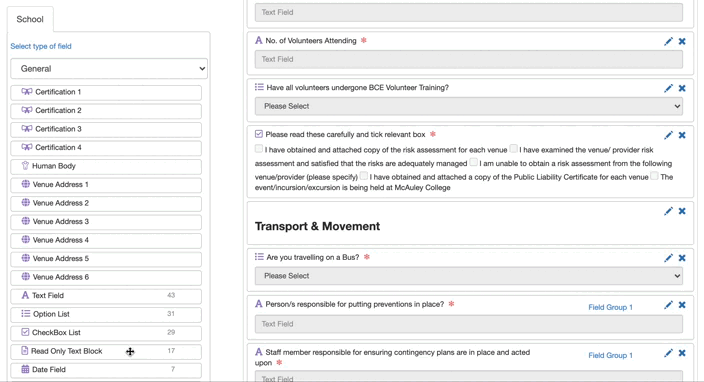 Vital fix on T
emplate
Category
P

ermissions
for Parent-initiated Forms 
We're pleased to have fixed a bug in the Template Category to ensure only Staff Users can
access
specific Slips/Forms submitted by Parents.

Here's how you make sure your Permissions are set up correctly:
1. Create a Form Template Category and assign it to a User Group. 2. Create a Form with this category.
3. Only Users having access to this category should see these Forms
Got EdSmart product suggestions? 
If you've got a suggestion, we'd love to hear it. Once we receive your request, we'll discuss the new feature internally and get back to you regarding its feasibility as a new addition to EdSmart's School Organisation System.
Have some spare time? Check out EdSmart's Foundation Course, as a great way to brush up on your EdSmart skills.