You made it to the school holidays and we hope you've enjoyed a hard-earned break! Meanwhile, at EdSmart, we've been continuing our efforts to make school administration more efficient. Let's take a look at some of these recent improvements.
1. EdSmart Payments for Parent Initiated Forms
There are lots of activities run in a school that rely on parents nominating their child and making a payment.
Let's face it, those activities are enriching and fun for students, which is why you offer them, but the paperwork the associated financial transaction creates can get a bit complicated.
Enter stage-left: EdSmart Payments for Parent Initiated Forms.
With EdSmart Payments in your Parent Initiated Forms, families can indicate their child's willingness to participate AND pay the associated charge for that activity all from the one form. This same process works for Student Enrolment Forms too.
If a payment is requested, you can specify the amount or have it editable by the parent. You can also set it to 'Payment Required', which can be modified to apply only to positive responses if you don't want to charge when Parents choose 'Permission not given'.
You need to have EdSmart Payments set up for the school. Learn more here if your school isn't currently enabled for Payments.
CLICK HERE
TO LEARN ABOUT PAYMENTS
ON PARENT INITIATED FORMS
2. Conditional Workflows – one form, many uses
Have you ever been filling out a form and realised you can't figure out who it's supposed to go to? We've all been there, but EdSmart's got your back!
Previously, you would create a Form Template for every situation, but that could be a LOT of templates and a lot of digital clutter
!
With EdSmart's Conditional Workflows, you can create forms that go to the right people automatically without the Form Creator knowing the nitty gritty – and all from the one template! Marie Kondo would approve
.
Conditional Workflows can be applied to Parent/Students Slips and School Forms. Now you can create Leave Application forms that go to different approvers based on Faculty or Staff Type. You might create Risk Assessment Forms that go to different people based on the level of risk or location. When you stop and think about it, the possibilities are endless!
Once you start using Conditional Workflows, we're sure you will wonder how you ever did without them.
Conditional Workflows are available to all EdSmart customers
CLICK HERE
TO LEARN ABOUT CONDITIONAL WORKFLOWS
3. Activity Care improvements
At EdSmart, you
, we
.
Student Care files attached by parents (medical plans, etc.) can now be displayed in the Activity Care tab. This has been achieved with a new upload field checkbox.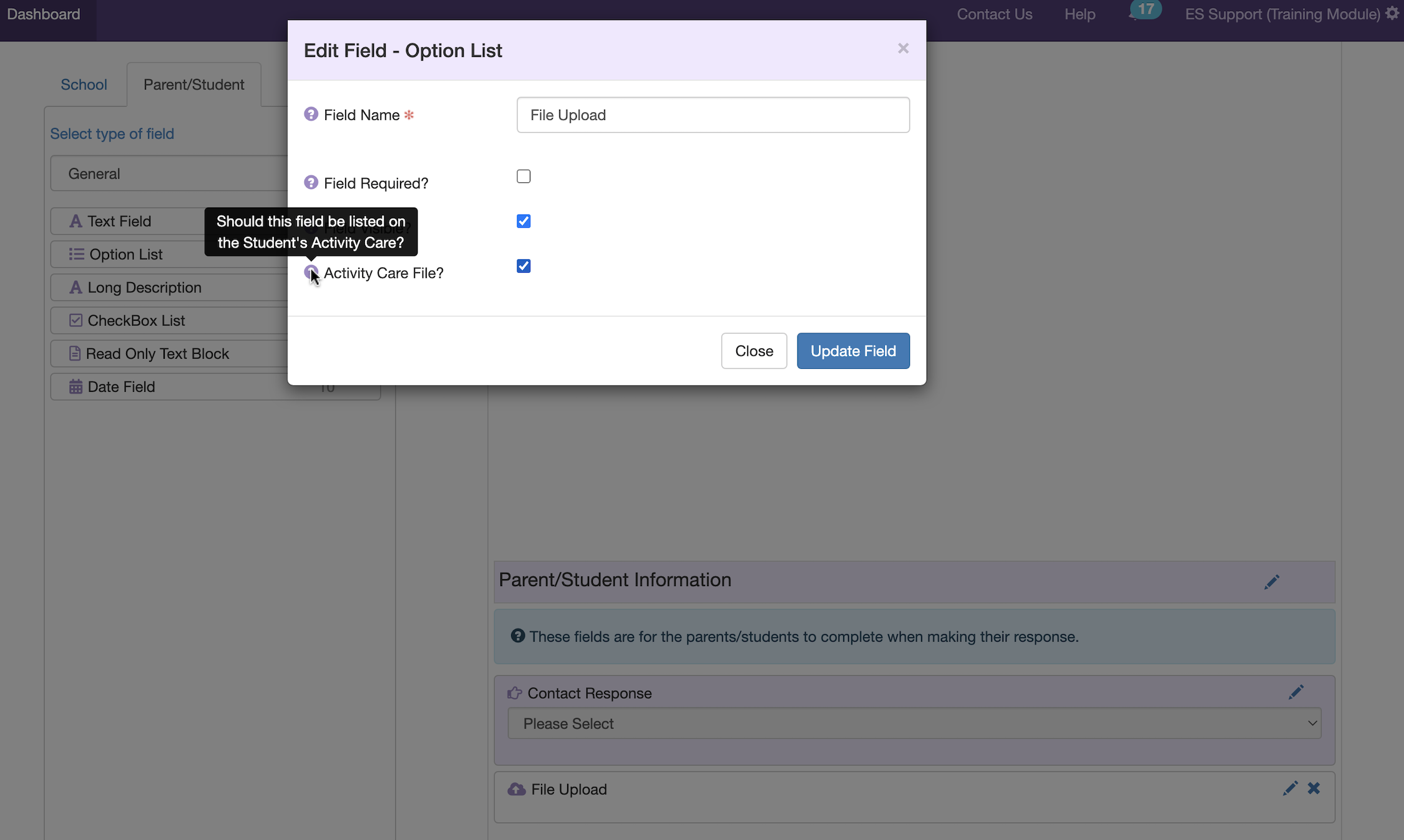 If the 'Activity Care File?' checkbox is ticked for the 'File Upload' field, then slips sent to parents using this template with the 'File Upload' field will allocate a URL for files uploaded by parents to the 'Activity Care' tab of the 'Student Profile' page.
EdSmart's Activity Care Module is available to all our schools.
CLICK HERE
TO LEARN ABOUT ACTIVITY CARE
And while you're here, don't forget about…
SMS notifications for Broadcasts and Slips



Remember, when sending Broadcasts, you have the option of sending them to Parent Contacts via email, SMS or both.
When sending slips, if your school has SMS enabled, the slip will be sent via the rules set on the 'Parent Contact' configuration. The exception is Absentee Slips, which some schools have made a special request for EdSmart to send SMS only.
To enable SMS, please contact kai@edsmart.com.
As always, don't forget to share your feature requests with us. We
receiving them!
Until next time!
For further handy hints and tips for optimising your EdSmart usage, make sure you head to our Knowledge Base.