Having forged a career at some of the most prestigious schools in Australia and the UK, it might come as a surprise to learn that teaching wasn't Phillip Heath's first choice as a vocation.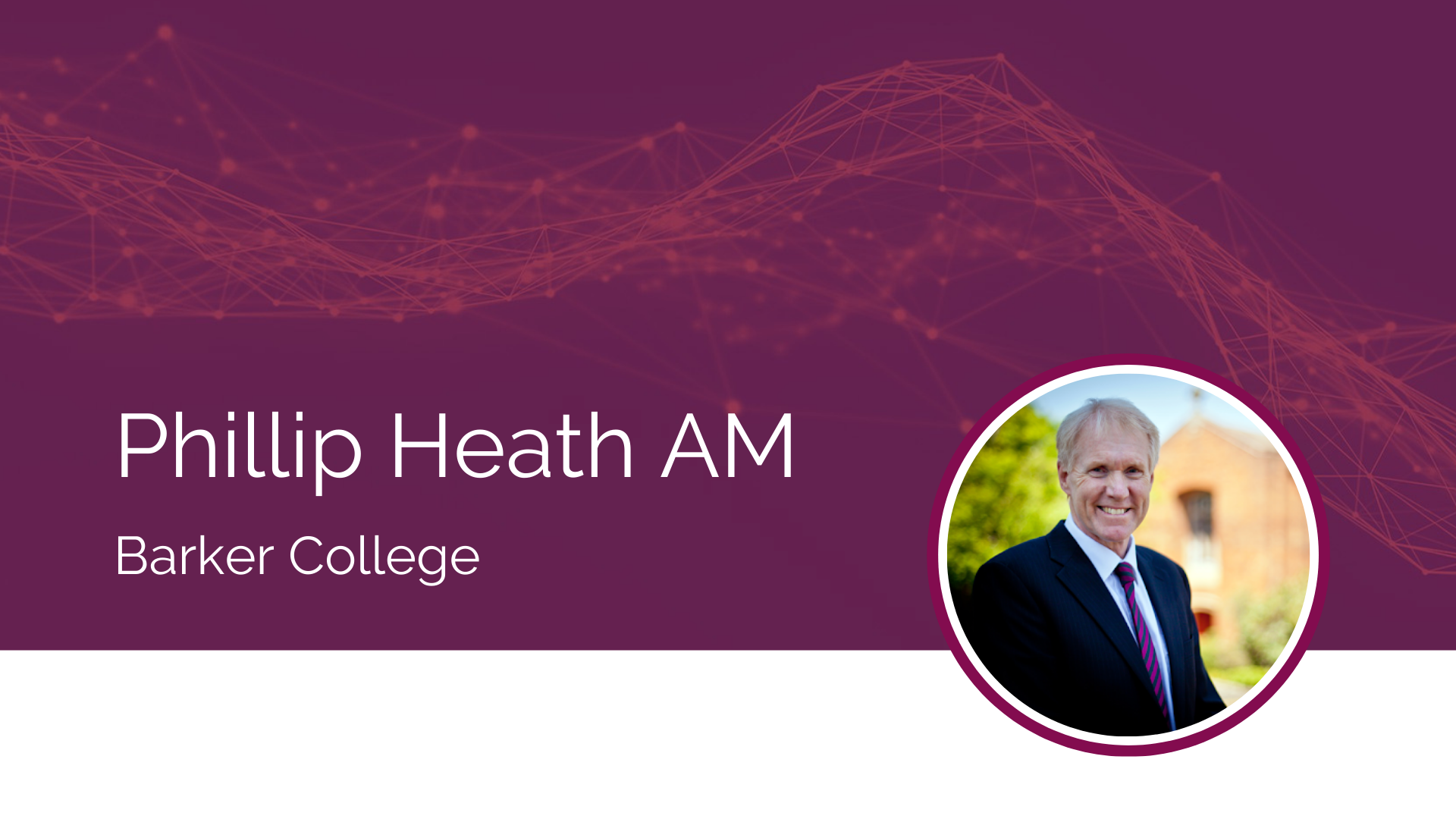 Far from 'settling' for a career in education, Phillip Heath's pathway to the front of the classroom was borne out of opportunity and happy coincidence.
As a university student, he was headed for a career in psychology and counselling. For a time, there was also the lure of a traineeship in the then nascent field of IT. But, while both of those fields held his interest, it was his studies in history that would cement his life's path.
"Teaching was not a career ambition, not at all," confirms Phillip. "I was successful at school but I wasn't that happy at school, so I think it's one of life's great ironies that I've worked in schools most of my life."
"I chose history because that was where my great academic love lay," he continues. "I loved the reading and writing in history, and still do. In many ways, the skills that you learn as a historian around understanding evidence, looking for patterns and the ability to synthesise content into coherent meaning has been really valuable for [my teaching] work in more ways than one."
Instead of completing doctoral studies, which was one of Phillip's options, and then potentially heading towards the academic world, an opportunity came to teach at Trinity Grammar School. It was at this point that Phillip fell into teaching and discovered that it was a skill he not only excelled in, but one he could love. He describes every day since as being "extraordinary" and, even though the challenges never get easier, he feels a sense of profound importance in his responsibilities.
For Phillip, "The fact that you are involved in playing some small part in the nurturing of another life and enabling growth is a privilege that is beyond reckoning." He sat down with EdSmart to tell us what that means in the context of his brilliant career.
EdSmart: What have been the major milestones in getting to where you are today?
Phillip Heath: "In my early 20s, I was thrown an opportunity to look after one of the day houses at Trinity Grammar, and then I was sent on a teaching exchange to the United Kingdom, which was a fabulous experience. My world suddenly became bigger than where I'd grown up, and the school in which I was serving."
"In the second half of my 20s, I took on running a boarding situation in really profoundly difficult circumstances where, in many ways, I had to make decisions that related to not just the educational wellbeing of a child but also their health and safety and their nurturing – their rearing – and creating change through a very complex environment."
"Then, by the time I was 30, I took up an opportunity to be Deputy Head of a new school – William Clarke College in Kellyville in the Hills District, northwest of Sydney – and establish a culture; create its own narrative. It was a lovely school to be part of. It was about creating something right from scratch – there was nothing there – and that was fun."
"Following that experience, I went into the first of three headships. The first one was in my mid-30s at St Andrew's Cathedral School. I think I was a last resort – an expendable personality – a bendable figure that was thrown into a school that may not make it. But I stayed there for 14 years and loved it."
"It was all a bit of a rush and there were those key moments where I had to ask myself: Do I have the capacity? Will I allow myself to be just a little bit stretched? When failure occurred, as it did most days, I would just embrace it."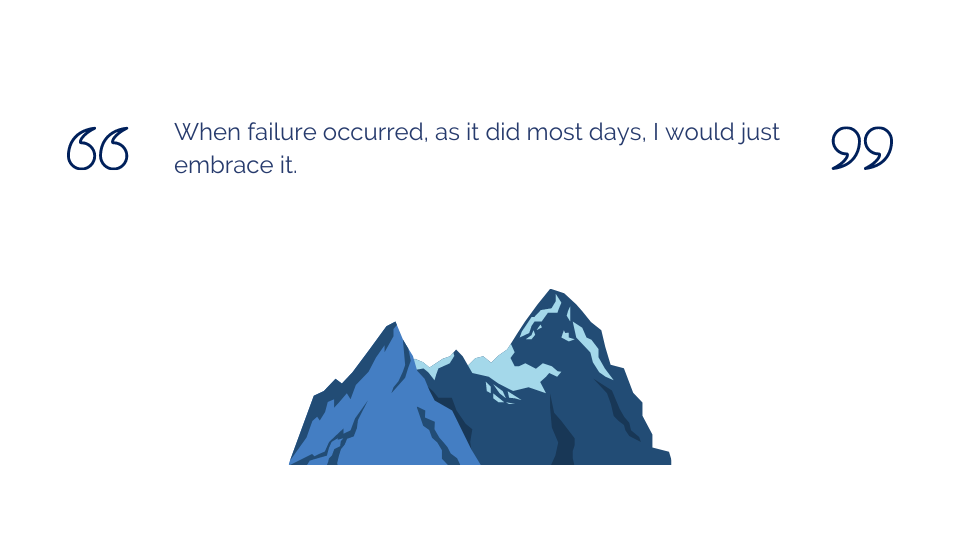 Would you say there's been someone who mentored you through that journey?
"The person who was probably the most important mentor I've had is Rod West. He was the long-time head of Trinity Grammar in Sydney. He said to me, 'You love to be loved but you love the truth more', and I've held to that."
"As a consequence, I do relationship and culture-building well. I'm a stubborn personality when it comes to identifying things in the culture that need to be challenged and maybe changed. I had the opportunity through my 20s to do that while also writing and getting the history of Trinity Grammar published. I did all of that while teaching history and running boarding… and coaching rugby and cricket (laughs)."
"There were some monumentally difficult days across my career but the hallmarks are always the same: you recognise the moment, assess your capacity and identify failure but don't let that trouble you if the idea is worth pursuing. By dent of a series of those kinds of moments across the years – and a measure of good support and good luck, and grace of God – here I am."
Can you please tell us why you're so interested in Indigenous education?
"[The story of Indigenous Australia] is as compelling a story as learning to be an Australian living in this land. It is as fundamental as walking justly on the earth and recognising the true history of European involvement in this continent, and its impact on the first peoples."
"What is it about our first people that – despite more than two centuries of deprivation and denuding of culture and identity, impoverishment and dispossession – still makes them willing to share their story? In fact, they want to share their story with those who will listen."
"The starting point for me is that very deeply held conviction that the nation as a whole is less than it could be. To some extent, we walk with a limp because there's a part of our story with which we've not yet come to terms: this country was inhabited by others before we got here. I think, when seen in its proper light, an Indigenous way of understanding the earth and relationships and obligations, and even language and story, somehow wraps up a new way of thinking about what it is to be Australian that I think we're yearning to find in this country."
"I have drawn on the benefits in this country. I'm probably as good a solution to any problem as anyone else is, and maybe I should participate somehow. Education is my work – my stock in trade – so my best contribution to this is the pursuit of reconciliation and empowerment through education."
"There's another part to the 'why' and that's the Christian part. That's a particular worldview that I have. If Christianity has authenticity, it has at its heart peace, and peace is built on justice, not on saying everything's right. You can't just say, 'Yeah, that was then, this is now. Let's get on with it and let's build a new future because we got it wrong for 250 years.' No, you've got to deal with it, and you need to deal with it; to use a language with a sense of repentance and reconciliation and move on. So, you have to not only hear but be seen to have heard and let that affect your heart."
"I think it's a compelling argument that I have drawn on the benefits, as have other Australians, and I therefore must contribute somehow to carving out a new story for this country, which in my view, lacks that story. We're so close but we're not there."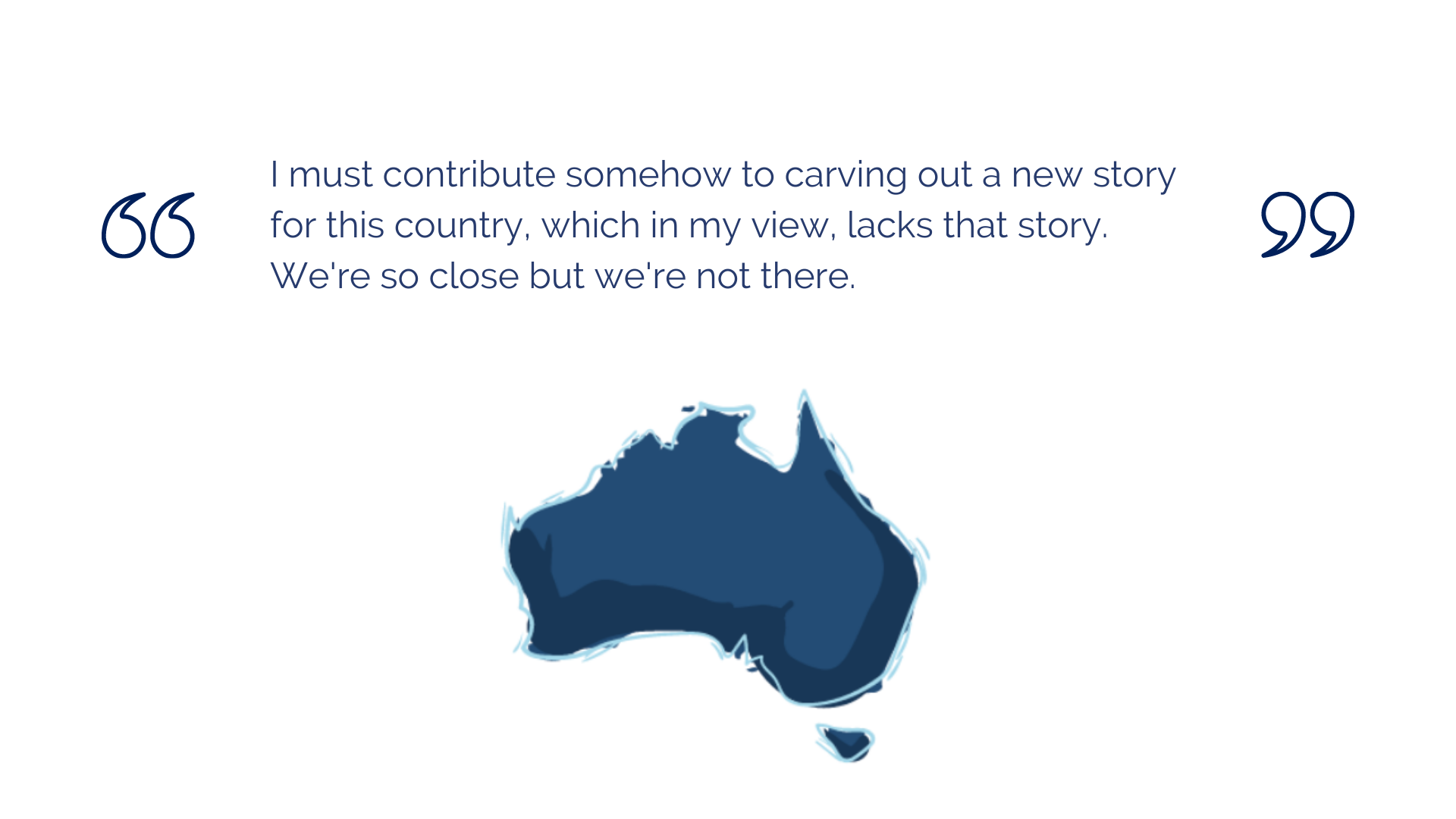 Was there something in particular that first triggered your interest in Indigenous education?
"I visited South Africa in 2005. I was part of the International Confederation of Principals' Conference that year, which was held in Cape Town."
"We got to visit really nice schools in Johannesburg but there was one school that wasn't your well-to-do, middle-class and emerging, black, middleclass, traditional Sandstone schools as we have here. This was a school that was established by one individual lady. It was called Vuleka, which is, I think, a Zulu word which means 'to enlighten'. It was a school specifically established for the children of Soweto but set up in church halls in well-to-do parts of Johannesburg where they paid a peppercorn rent to the mining companies. I just couldn't get it out of my mind."
"About six months before that, Sydney had rioting in Redfern. The school of which I was the principal at the time was two railway stops from where the rioting took place. So, putting those things together, the establishment of a school for Aboriginal children began: kindergarten to year six; close the gap before it opens, change the narrative from compensation to fixing a problem into genuine two-way learning and exploring cultural identity together – empowerment of the families as the first educators. It gave rise to a journey that will continue into 2021 with the establishment of the fourth campus of this kind in partnership with the Yothu Yindi Foundation."
"I'm afraid I'm quite driven about this issue. I'm very grateful that Barker has been supportive because some have accused me of being distracted. People struggle with why I'm doing it because it just doesn't mean anything to them, and they see my main job as being Barker. But this is an enhancement of what we're offering at Barker, rather than a distraction."
How did you actually become principal of Barker?
"I was invited to be the ninth Head of Barker in 2013. It's a bit of a story within a story but, again, it was not my plan."
"I was happily placed in Canberra as the head of a really lovely, wonderful school called Radford College – a really outstanding younger school with all of the high qualities of a school culture and performance and achievement and ambitions that you'd want, so there was no restlessness to leave on my part. There were family reasons that drew me back to Sydney, or at least closer to where my own recently bereaved mother was located. That made it a bit easier for us in some ways, and Barker was flatteringly persistent."
What would you say the school looks like under your leadership?
"It'll be for others to decide what both have been the achievements here and its merit but the things that have interested me a lot while I've been here include increasing the co-ed program. I'm very committed to young men and women learning together respectfully; that we complete each other as humans, we learn each other's minds and souls, and think better together."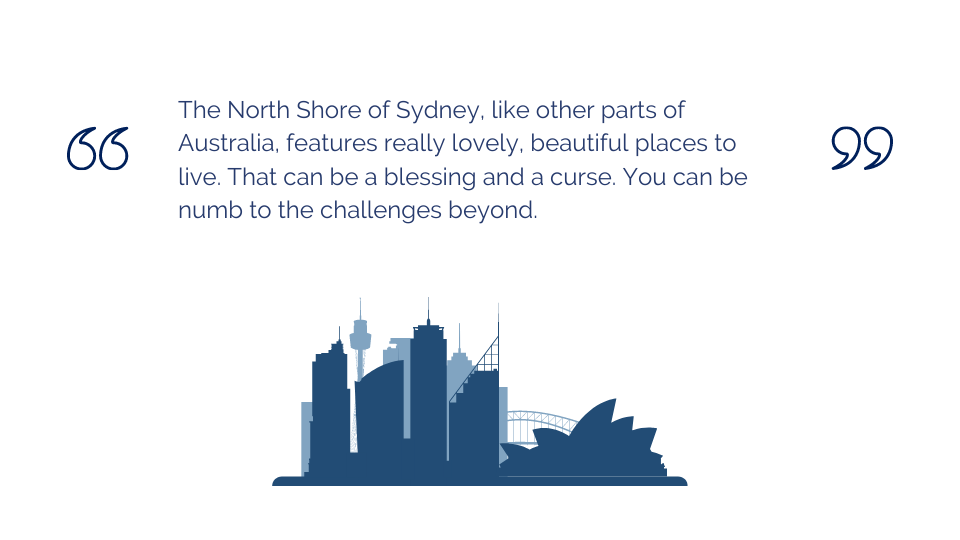 "The North Shore of Sydney, like other parts of Australia, features really lovely, beautiful places to live. That can be a blessing and a curse. You can be numb to the challenges beyond. We've coined the phrase here, 'looking beyond the Mint gates', which refers to the gates at the front of the school that used to be at the Sydney Mint until the 1930s and were relocated here. They symbolise that stolid, secure, safe reference point that a Mint gate might suggest. But we've tried to look beyond the Mint gates and tried to set the Indigenous work and other tasks around that; that we are preparing citizens to think more about the contribution you can make to the world beyond the Mint gates."
"The third area is – with great support from a lot of smarter, more organised people than me – we've tried to impress on the students that your education is not for your own prosperity but that you need to see your education as a gift and live gratefully with that gift, then yearn to give back. Whatever you're doing, in any respect, the driving force needs to be about giving back. That's been an easier narrative here because the school's motto is Honour Non Honores, which, roughly translated is 'do good without reward'. Do that which is honourable, without seeking the honours that come from it. That's a very powerful motif to thread across a whole school."
"You put those three things together, and I hope that's what the last few years of my time at Barker have been about, and certainly have been occupying a fair bit of my consciousness."
What defines you when you're away from your desk?
"Well, lots of Barker things still (laughs). If the question tends towards, how I find the 'me' bit in all of this, I do like to still have a run and go for long walks. I love to write and I've been writing a manuscript on my experience in the Indigenous education space and the scars that I bear in my body for taking that on."
"I guess the other thing is I, like many of us, find great solace in a fantastic family around me who keep me very grounded. That's very important to me and I'm lucky to have that."