EdSmart Academy is a place of learning for EdSmart users. And it's open anytime of the day and night, all year round. We speak to its creator, Kai Vedanayagam.
Feeling intimidated or overwhelmed is a primary reason why people sometimes shy away from embracing new technology and platforms. To help overcome hesitation, EdSmart has established EdSmart Academy; a place where all of our users — regardless of their tech skill levels or digital literacy — can be guided through the fundamentals of our platform.
Given that EdSmart Academy is self-guided and self-paced (and available at no charge for EdSmart customers), it's the perfect way to build confidence and ensure all school users are getting the most from EdSmart so they can focus on what matters: educating young people.
Kai Vedanayagam, EdSmart's Customer Success Manager, and the brains behind developing and delivering the Academy's courses says, "EdSmart Academy offers a genuinely flexible, self-paced learning environment for our users".
"We don't have a structure where you've got to complete the previous course to do the next one. You can just pick and choose what you want to do or what you feel like your school might be lacking and learn more about that within EdSmart Academy."
Rather than a series of dry or confusing documents, the Academy is an innovative, interactive experience for encouraging better engagement with EdSmart.
"It offers videos, quizzes and questions as part of the progression of the course," Kai explains.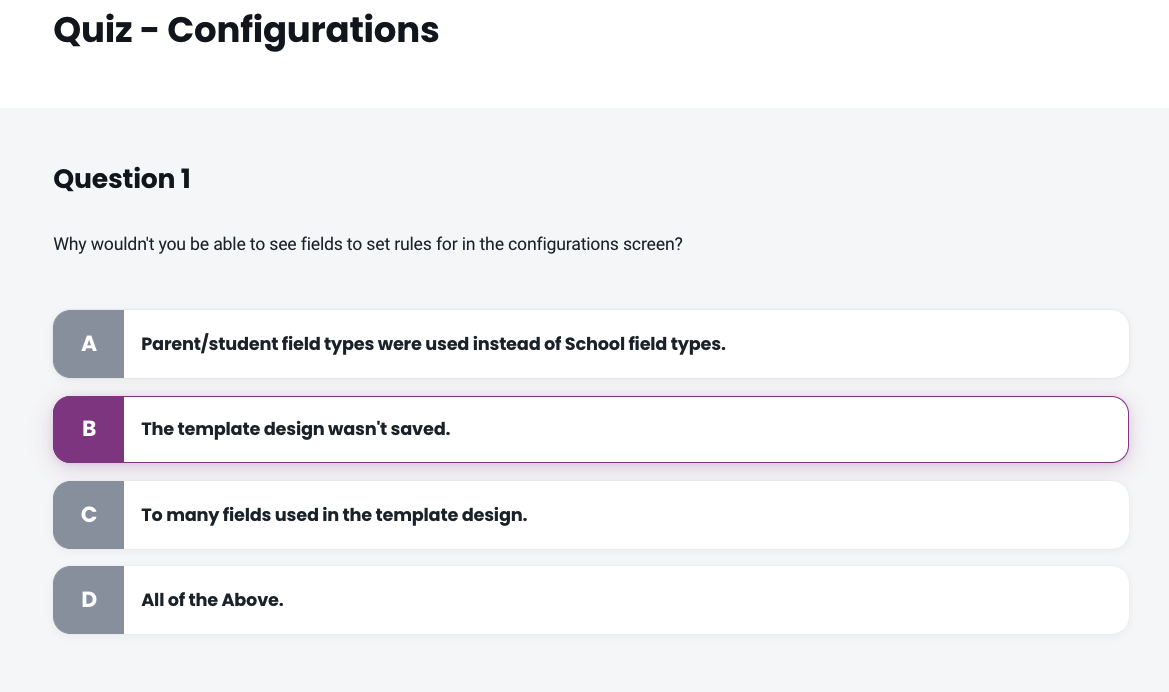 Image: Example of a quiz within EdSmart Academy
"For example, you get to learn how to organise your dashboard in a practical way, so you can avoid having to search for slips. Or, you have an event coming up, and you want to copy last year's form, but you just need to find it, right? You can find everything really quickly if your EdSmart dashboard is organised to begin with."
"You learn how to use configurations of fields so you can trigger the right fields at the right time. In the end, this means you're producing more concise forms that are more effective when it comes to retrieving information, rather than producing really large forms or multiple forms."
Currently, EdSmart Academy offers two courses: the Foundation Course that runs through the basics of how to send out parent slips and broadcasts and so forth; and the Admin Course that builds on the Foundation Course functionality to create 'EdSmart Champions' (i.e. experts).
"The courses also show users how to find and understand the essential data analytics EdSmart collects for your school," Kai continues. "Teachers and principals can access information such as which parents aren't receiving slips and, if they're not, why. Likewise, if they are receiving slips, why aren't they responding?"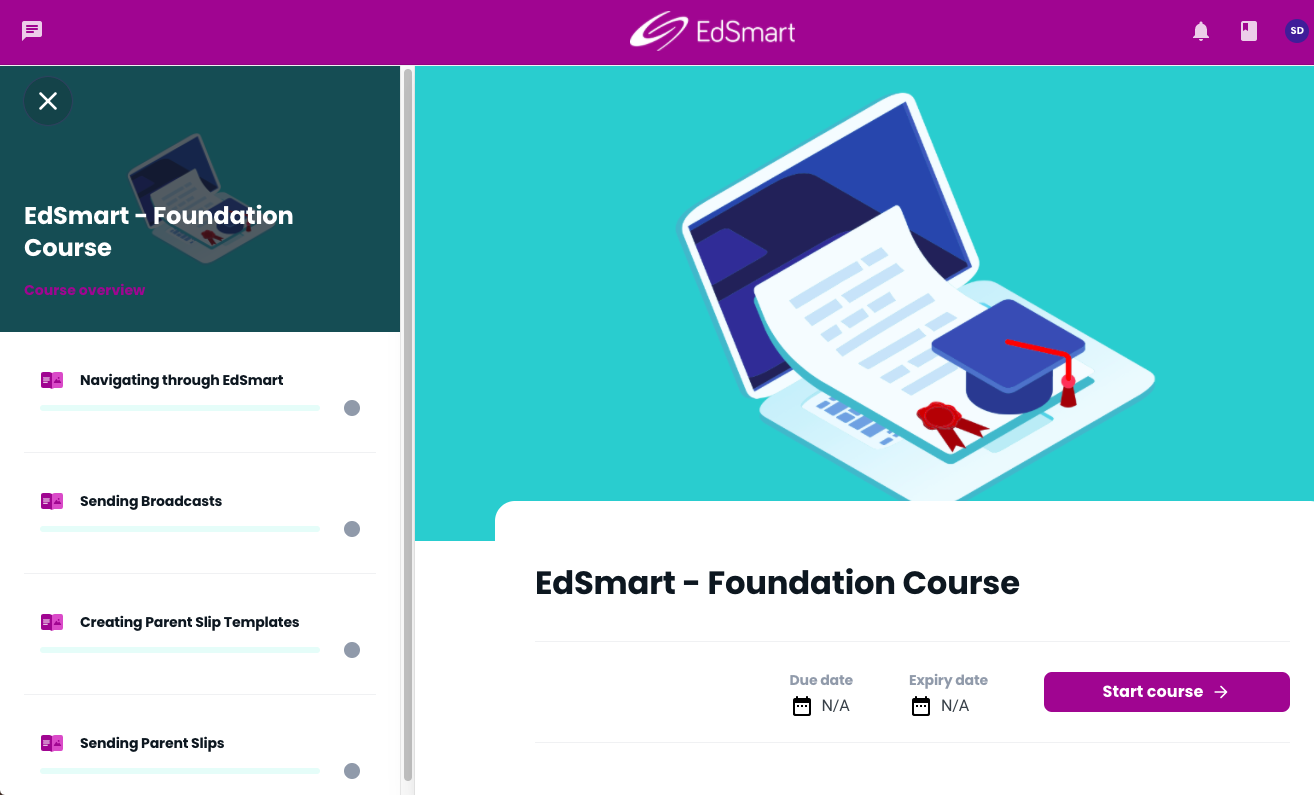 Image: Foundation Course welcome screen
Kai has found the courses offer equal value to teachers and administrators who are new at a school, as well as those who are just keen to refresh their EdSmart skills. The response from users has been very promising.
As Kai explains, "We've had a couple of suggestions on how to improve it – which is great – but our school users are also telling us they feel really engaged and it's easy to move through the modules. They find it interesting. It's quick to do and they have fun with the videos and the animations that have been built into it."
"Schools have limited time on their hands," he concludes. "They're always so busy doing multiple things, and they need things done efficiently so they can get to their next task and not spend hours doing one thing. EdSmart Academy helps solve that efficiency crisis."
"I highly recommend taking a course in the Academy to use EdSmart to your advantage. It's going to make your life easier in the long run."
Want to enrol in the EdSmart Academy?
Visit our Knowledge Base for more information and how to access it for free.