As the Southern Hemisphere slides into winter and the Northern Hemisphere skips into summer, EdSmart continues streamlining your digital paperwork experience – rain, hail or shine! Let's revisit some of our many handy features now.
1. Archiving Forms and Form Templates when you have finished with them
Sometimes it feels like there are just too many things on your digital desk, even if it's just pages of Form Templates or the many Forms created with them, it can be overwhelming
To remove digital ️ and allow you to achieve a sense of desktop peace, you can move your old Form Templates and Forms to the Archive Folder (spring clean, anyone?)
For additional peace of mind, you can still access them later, if you need to, but they won't be part of your default view. School Forms are part of the EdSmart Engage package or above.
CLICK HERE
TO LEARN ABOUT ARCHIVING FORMS
AND FORM TEMPLATES
If you have the EdSmart Transform package, you can also manage your Processes and Process Templates in a similar fashion.
CLICK HERE
TO LEARN ABOUT ARCHIVING PROCESSES
AND PROCESS TEMPLATES
Desktop clutter?
Sorted ️
2. What to do when a Sent Slip needs corrections

You know how it happens – you send out a Slip in good faith but something key changed and you need to let everyone know. The Slip has been sent! What can you do?
You send a Broadcast from within the Slip, that's what you do! Take a deep breath – it's going to be okay
You can send it to everyone, or a smaller sub-group e.g. everyone who submitted a positive response.
"But why can't I just edit it?" you ask, which is a fair enough question.
Editing a Slip that has already been sent would be very confusing. Some people could have already viewed it but not responded. How would you know who needed to be notified?
We know this will happen despite everyone's best efforts, so we've set out what to do so you can be prepared for the inevitable.
CLICK HERE
TO LEARN HOW TO MANAGE
CHANGES FOR A SENT SLIP
It won't happen overnight, but it will happen.
Wise words, Rachel Hunter!
3. Students tab – all their information in one place
The Student tab is the place to go to view all your EdSmart information about a Student. From the Students page, you can view all the Students in a particular Student List. You can also filter by Medical Alerts.
Once you select a Student from this tab, you can select further tabs to view their:
Details and Activity Care values

Student Lists

Contacts' details
Broadcasts, Forms, and Slips and related Responses
You're likely to have a lot of information about your Students, so the Students tab is where you go to view it all in one easy-to-access place. EdSmart recognises the importance of being able to access this information quickly, so we've made a number of performance optimisations to ensure you can always get what you need when you need it.
Students tab – the EdSmart wiki page of your Students
And while you're here, don't forget about…
EdSmart Academy and our Knowledge Base!
These self-help tools are accessible from your EdSmart platform via Help and available to all EdSmart Users. It's like having your very own 24-hour Customer Support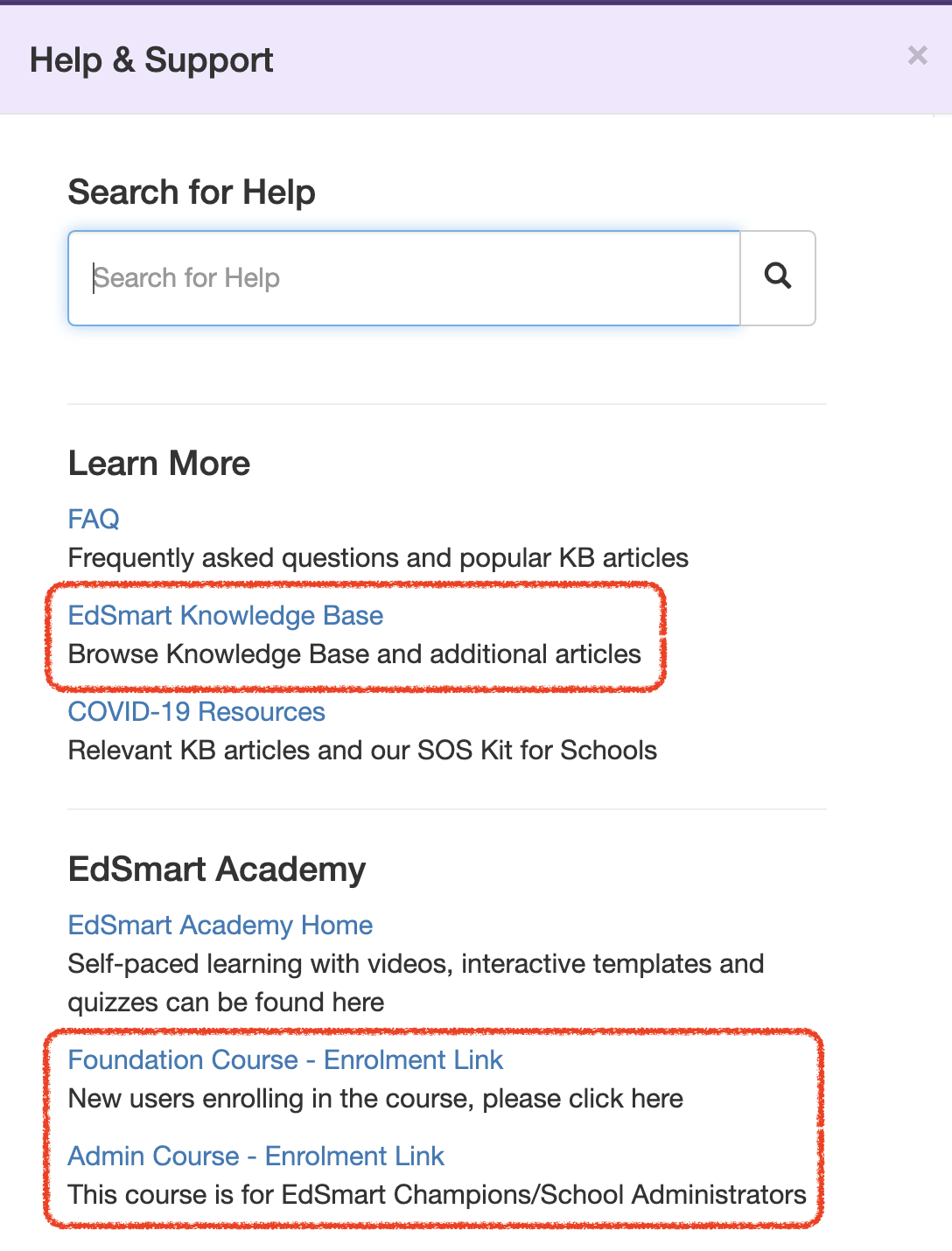 These two portals are excellent places to learn more about EdSmart. Our Knowledge Base is broad and searchable, while EdSmart Academy guides you through the platform basics with a flow similar to a training session.
Just remember to use one of the Enrolment links first if you haven't enrolled in EdSmart Academy before.
As always, don't forget to share your feature requests with us. We ❤️ receiving them!
Until next time!
For further handy hints and tips for optimising your EdSmart usage, make sure you head to our Knowledge Base.