EdSmart Co-Founder Fiona Boyd has been named a BWiE Woman to Watch in Education. She tells us about one of the defining qualities of her inclusion: the creation of community.
In June 2022, The Business Women in Education (BWiE) network unveiled their inaugural 'Women to Watch in Education' list – a list of women across the global education sector driving change, supporting their peers and inspiring other women in the industry.
"Job title is irrelevant," point out the list's creators. "The most important thing is that their influence is tangible and timely – and they are a Woman to Watch." Furthermore, BWiE stresses the list is not about ranking: "It's a non-competitive list… It's about highlighting the women to watch, not putting them up against each other."
Of the inaugural list of 70, five members are from the Asia-Pacific region, including our own dynamo as Co-Founder of EdSmart, Fiona Boyd. Fiona describes the list as noteworthy for many reasons but mostly because women are traditionally not noticed for the work they do that makes a real difference.
"We know this because, if you look at the film Hidden Figures (2016), the people who did the mathematics that got the moon landing underway were not all those guys running around in white lab coats and clipboards playing with the mega computers," Fiona explains. "They were women doing handwritten calculations. In fact, the women were called 'computers' because they did the actual computations for the moon landing and return. Yet, these amazing women, many who were African American, were erased from history for 70 years."
"For me, it's like the erasure of women's contribution to everything really. Right now, my contribution is via EdTech. The other women on the BWiE list, I view them as my peers."
Fiona notes a general behavioural difference between men and women: "Men muscle over the top of things; they try and force themselves upfront. Whereas women actually want to do something that makes a difference, and they think that their work speaks for them. We've been living in a culture that doesn't acknowledge that, and this Women to Watch list readdresses that discrepancy."
"Also, just look at the list," Fiona continues. "Look at the women, dig into their LinkedIn profiles and what they do. There's this extraordinary array of awesome effort making education function, you know? If we were to take women out of the equation of education and EdTech, the whole thing would fall over."
"The Women to Watch list acknowledges that there are a lot of women who are working in education and EdTech who are actually making change for the better."
Crafting communities for the good of everyone
Crafting powerful and supportive communities is at the heart of what drives and inspires Fiona — not just the education sector but in everything she does.
"In a sense, I was anti-community when I was young because I really hated those small groups that had really strict social rules," says Fiona. "I didn't like Brownies much at all – getting the badges wasn't my thing. I really don't like groups of women who police other women. I really loathe that."
The turning point for Fiona came during a spell at the Australian Broadcasting Corporation (ABC) as a broadcaster and regional program manager in places like Broome, The Kimberley and Far North Queensland. Learning more about those communities and living in remote areas showed her that community was about more than specific rules of belonging.
"It's more around a kind of human dignity and a respect for other humans in your 'big club' you could say," she explains. "I see community as a big club that lets anyone in, and the only barriers to entry are the capacity to know yourself and to respect the other."
Crafting community in the arts sector
The creation of ArtsHub in the late 1990s and early 2000s was also a prescient experience for Fiona. Beginning as a personal operation under Fiona's stewardship, as well as that of her Co-Founder at EdSmart, David Eedle, it became a much more communal venture as it grew and evolved.
"My Co-Founder in a consulting company and I were running this consulting business [and] that was mainly the projects he did. I did admin work, which wasn't satisfactory to me. I mean, I'm a broadcaster by nature, so admin is not my thing. I think it's not a lot of women's 'thing' yeah?" Fiona laughs.
"So, literally, I said to my Co-Founder, 'You know what? You are on the phone all the time, having conversations with all your buddies all around the country, and they're asking who to refer for this job, or that job, or the other job. Instead of giving them referrals, how about you turn that into a business?"
The project became ArtsHub — a jobs list and news service for people in the arts and creative industries. Groundbreaking in a number of ways, ArtsHub was also unique in bringing many of the often competing 'factions' of the industry together and creating a supportive community.
"In the late '90s, the arts and creative communities were at each other's throats all the time, fighting for different pots of money," she explains. "Our vision was, well, if we had coherence across the whole sector then there's a unified voice that could be more effective in lobbying for its needs".
"Community is about sharing knowledge. Why can't the dance sector share knowledge with the theatre sector, with the visual arts sector? Why not share information, know-how, share insights? That's where our Arts Hub community idea came in."
"It was obvious to me that community would be part of this because, within Australian culture, the arts and creative sectors have always been an also-ran to sport," she says. "The arts make us think and feel; artists make us get outside ourselves and be in the experience of the story that's unfolding in front of us — whether it be a play, a film, theatre, an unbelievable piece of music — it takes us beyond ourselves."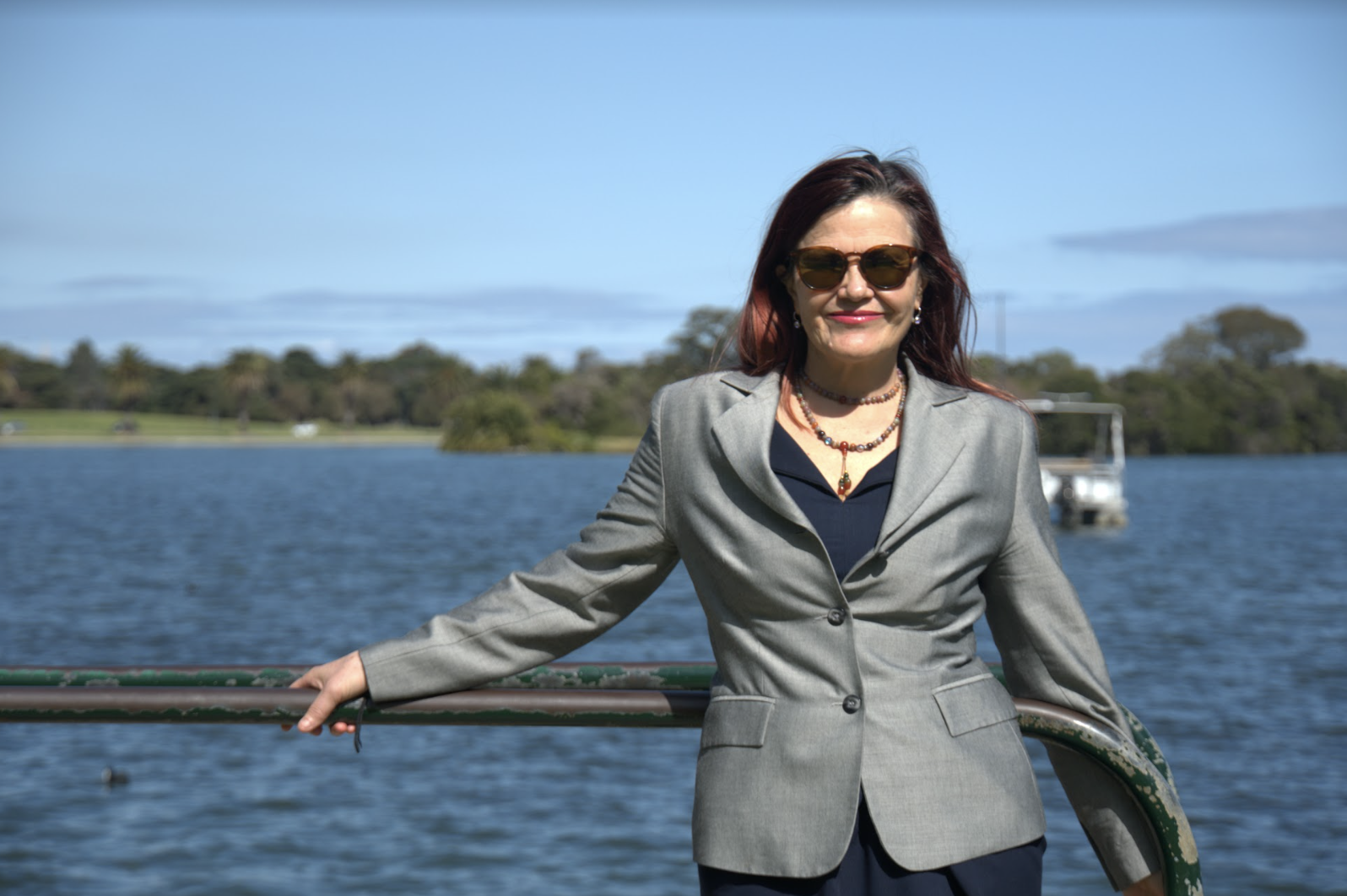 Crafting community in the education sector
Fiona is stridently anti-career, a philosophy that, as she explains, drives her ability to bring people together for the greater good. 
"I don't believe in careers – I think that's a construct," she says. "I made a decision when I was probably six years-old that I wanted to do things that weren't detrimental to humanity but moved us forward a little bit, whether I benefitted or not out of my action."
This fuels Fiona's observation that – certainly in the K-12 education space anyway – teachers are key to the smooth running of society, and that we've overlooked the value of teachers for a long time now.
"What's really interesting is that teachers have also overlooked the value of each other in some ways, so I'm on a mission to find, to gather the stories of awesome teachers and great schools to show the community more broadly that, in your neighbourhood, brilliant work in education goes on."
"Really good work occurs, and these people are responsible for lifting up your kids and helping them have the capacity to learn how to learn, which is what every individual needs in a dynamic, changing society."
The next stage in crafting community
Communities have a prosperous future, according to Fiona. At present, our lives are dominated by the impacts of global capital, and not all of them are good. The response, she believes, can be a shift to a concept called 'Glocalisation', which she defines as "dropping the national boundaries and finding some group rules of belonging for all the citizens of the world."
"I've been listening to a podcast called The Long Now Seminars, which is all around long-term thinking and unpacking what global capital has done to world communities over the last 30 years."
"Glocalisation is a huge challenge but I think achieving it leads to a global community," says Fiona. "And then you can have local community sitting beneath that and sitting within your national or local paradigm."
"Community has got a huge future. Capitalism—in the exact form it is right now? Not so much. I think it's in severe need of civilising. It's pretty uncivil at the moment. There are too many losers at the current time, too many get left behind. To my way of seeing, there's a unique space for capital and community to come together for the benefit of all, I want to be part of that."
For more information on EdSmart's community engagement, don't hesitate to contact us.